hotels and apartments
sport and leisure
localities
information
Restaurants Monte Civetta
The restaurant Brustolon is directly run by the owners of the same named hotel and offers typical traditional dishes that are combined with international plates. In particular, we take great care of our typical mountain dishes, such as delightful mushroom and...
"Nona Giò" is the small restaurant of the guesthouse Dormì&Disnà and offers not only to the guests of the facility an additional service, but is also opened to visitors, that want to discover the village of Fornesighe in the Dolomites.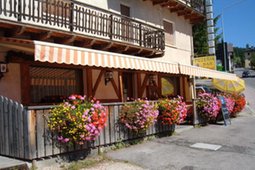 Selva di Cadore - Via 4 Novembre, 1
The Restaurant Pizzeria "Al Crot" in Selva di Cadore is a family run restaurant with the typical atmosphere of the mountains in the centre of the village. The secret ingredient is the warm hospitality, that makes every typical dish and the great variety of...